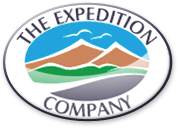 Mt. Ararat 5,137m Expedition
Mt. Ararat is the heighest mountain in Turkey and believed by many to be the resting place of Noah's Ark. It is also one of the "Volcanic Second Seven Summits"
Itinerary

Day 1 : Van – Dogubeyazit – Ishak Pasha Palace
We meet with our team at the Van airport and drive to Dogubeyazit. After check in the Hotel, we will visit Ishak Pasha Palace. The palace is built on a hill at the side of a mountain 5 km (3 mi) east of Dogubeyazit. It was the last large monumental structure in the Ottoman Empire from the "Lale Devri" period. It is one of the most distinguished and magnificent examples of the 18th century Ottoman architecture and is very valuable in terms of art history. (-/-/D)
1 Night in Dogubeyazit at the Simer Hotel – (www.simerhotel.com/beyazit.html)
Transfer time: 2/3 h; Transfer distance: 180 km (Van - Dogubeyazit)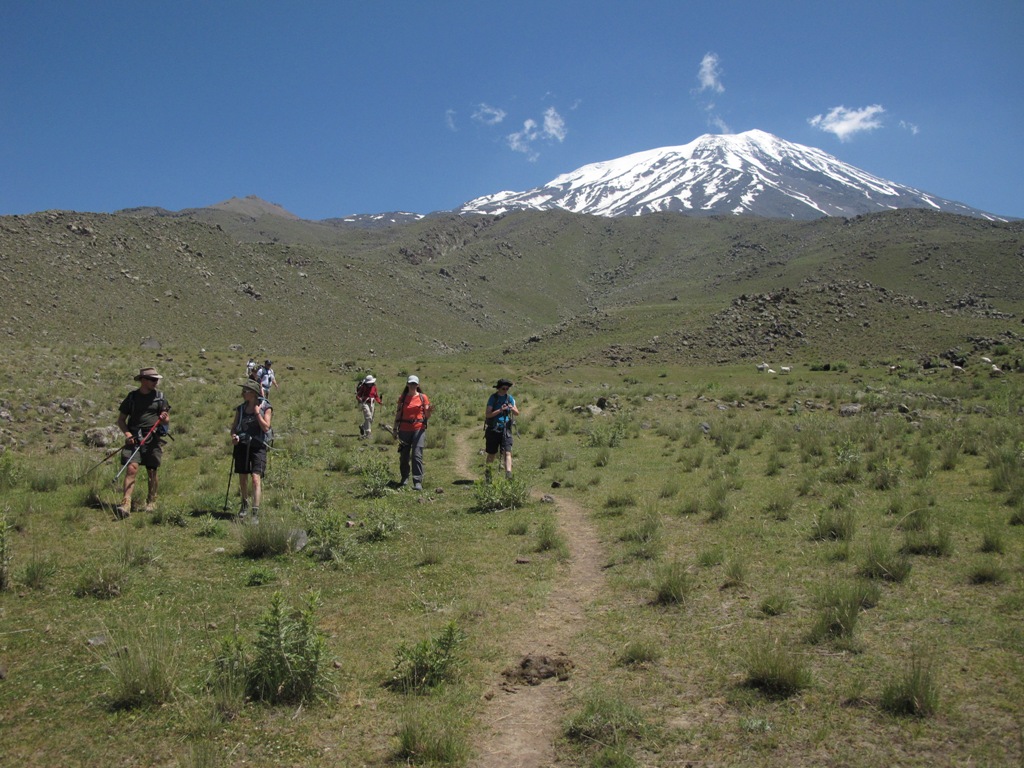 Day 2 : Dogubeyazit – Camp I (Base Camp 3.200m) – (Camp)
After Breakfast we load our luggage and camping equipment on our vehicle and drive via Topcatan village to Eli Village (2.000m), Between 2.000 and 2.400m (according to road conditions) we will start walking. Our luggage will be carried by mules and horses which will be arranged in advance, we have only to carry our own daily bags. On the way it's possible to meet some semi nomadic families, who use the fresh green Plateaus of the Mt. Ararat for their sheep flocks. We walk to our first Camp Side (Base Camp) which is established at a high of 3.200m. (B/L/D)
Walking time: 4 h; Ascent: between 800 and 1.200m (depends on road conditions & starting point)

Day 3 : Acclimatization Day – Camp II (High Camp 4.200m) – Camp I (Base Camp 3.200m) – (Camp)
Today we will walk up to 4.200m for acclimatisation. High altitude is defined as altitudes greater than 3.000m and AMS (Acute Mountain Sickness) may appear above this level. After easy ascent we will arrive at the Kum Kamp at a high of 3.7000m where will have time to take a break. Afterwards we go on ascend to 4.200m where will have our second Camp (High Camp) on next day. At 4.200m we will take time to have a Picnic. We descent down to our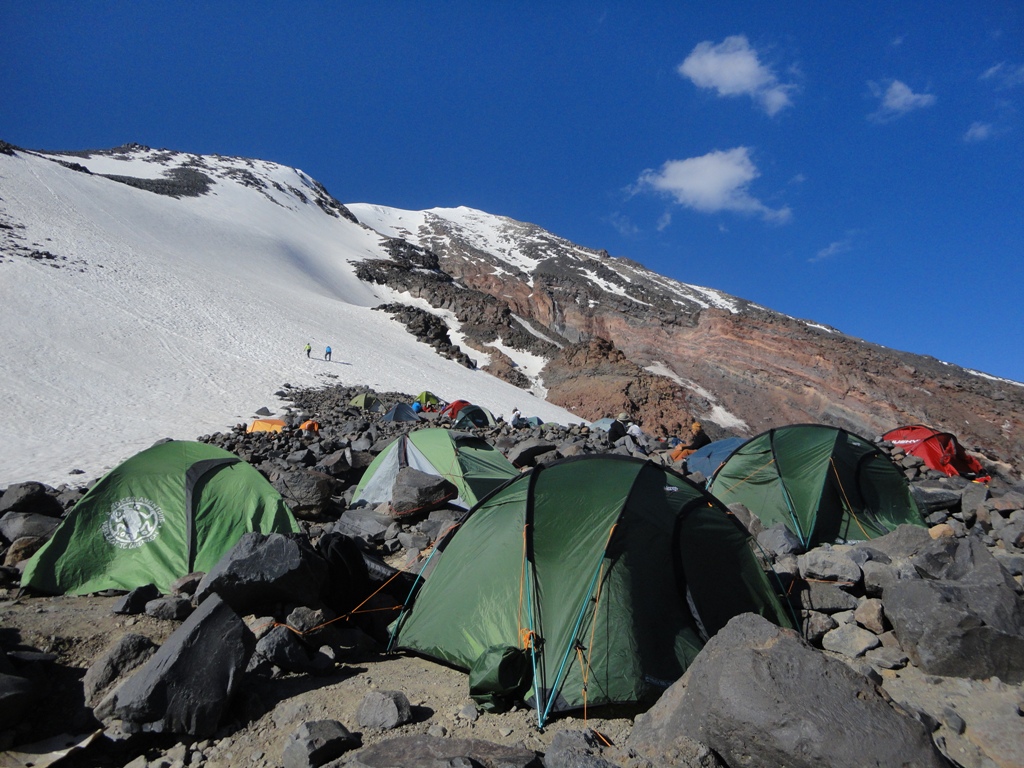 Base Camp at 3.200m and prepare ourselves for the next day to move up to Second Camp. (B/L/D)
Walking time: 5/6 h; Ascent/Descent: 1.000m

Day 4 : Mt. Ararat – Camp II (High Camp 4.200m) – (Camp)
In the morning we ascend up to the second campsite at a height of 4.200m. After reaching the campsite, we set up our tents and we take a little rest. In the afternoon we can go higher to get acclimatized (optionally). We will have dinner today a bit earlier; we will go sleeping early in the evening, because we have to wake up very early in the Morning to begin our Mt. Ararat Summit climb. (B/L/D)
Walking time: 3/4 h; Ascent: 1.000m; Descent: 0m

Day 5 : Mt. Ararat – Summit day 5.137m – Camp I (Base Camp 3.200m) – (Camp)
Between 2:00 and 2:30 in the morning we will have breakfast and start walking between 3:00 or 3:30 to get a good view at the sunrise on the top. After a very hard ascent, because of the steep slopes, we will reach the Glazier at 4.750m. After we fixed our Crampons we continue our ascent till we reach the Summit of the Mt. Ararat. If the weather is clear we can see the Mt. Damavand in Iran, the Elbrus in the Caucasus and the Kackar Mountains near the Black Sea. We enjoy the great panoramic view from the Summit and afterwards start descending to our Base Camp at 3.200m. (B/L/D)
Walking time: 9/10 h; Ascent: 937m; Descent: 1.937m
Day 6 : Mt. Ararat – Camp I (Base Camp 3.200m) – Dogubeyazit – Van
In the morning we descend to the village of Eli. We take our vehicle near the village of Eli and drive down to Dogubeyazit. In the afternoon we drive to the city of Van. Archaeological excavations and surveys carried out in the Van province and environs prove that the history of the city itself goes back as far as 5000 B.C. Under the ancient name of Tushpa, Van was the capital of the Urartian kingdom in the 9th century BC. Today Van is more known as "The Pearl of the East" because of the beauty of its surrounding landscapes. It takes two and a half hours to reach Van from Dogubeyazit. (B/L/D)
2 Nights in Van at the Tamara Hotel – (www.tamaraotel.com) – or similar
Walking time: 3 h; Ascent: 0m; Descent: between 800 and 1.200m
Transfer time: 2/3 h; Transfer distance: 180 km (Dogubeyazit – Van)

Day 7 : Van – Akdamar Island & Church
In the morning we drive to Gevas town and take a Ferryboat to visit Akdamar Island which is the home to a 10th century Armenian Church, known as the Cathedral Church of the Holy Cross (915-921), and were the seat of an Armenian Catholics from 1116 to 1895. In the afternoon, visit to Van castle, constructed in 9 BC at 80m height from the lake by Urartian king Sardur the first was bearing the name Tuspa. One of the most remarkable structures around is the rock tomb of Argisti the first, outside which is a long inscription relating the events of his reign. (B/L/D)
Transfer Time: 30/40 min.; Transfer Distance: 40 km; (Van – Gevas / one way)

Day 8 : Van – Home
After breakfast drive to the Van airport and fly Homewards. (B/-/-)

B = Breakfast; L = Lunch; D = Dinner
Important Note: It is necessary for a Mount Ararat climb to apply a Permission (Permit) given by the government. Therefore it is necessary to confirm your Mount Ararat climb more than 60 days in advance before the Tour begins.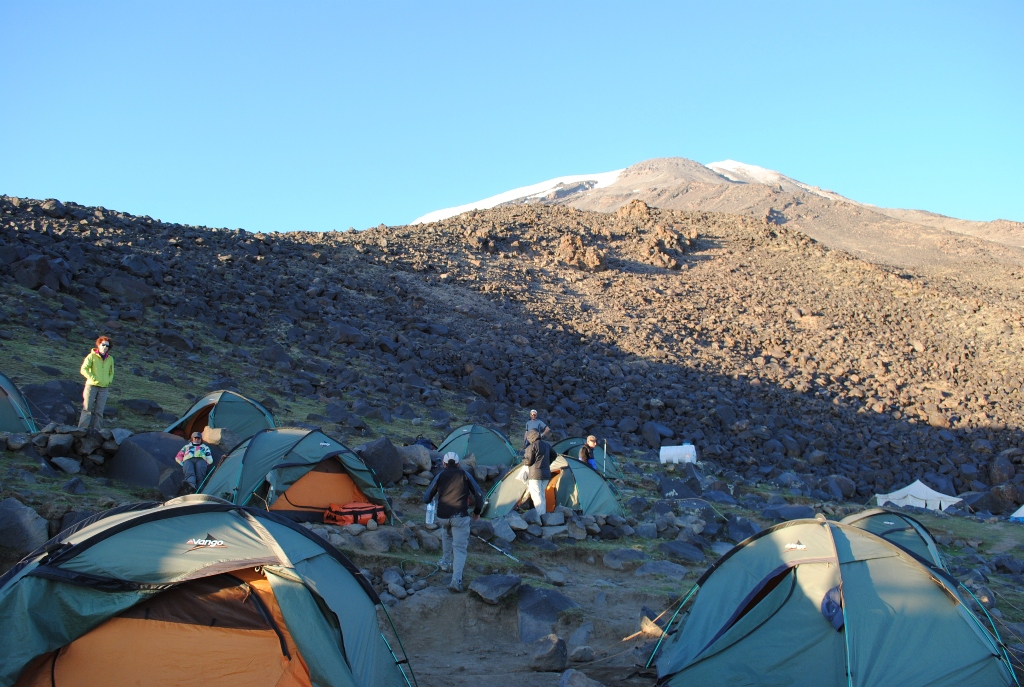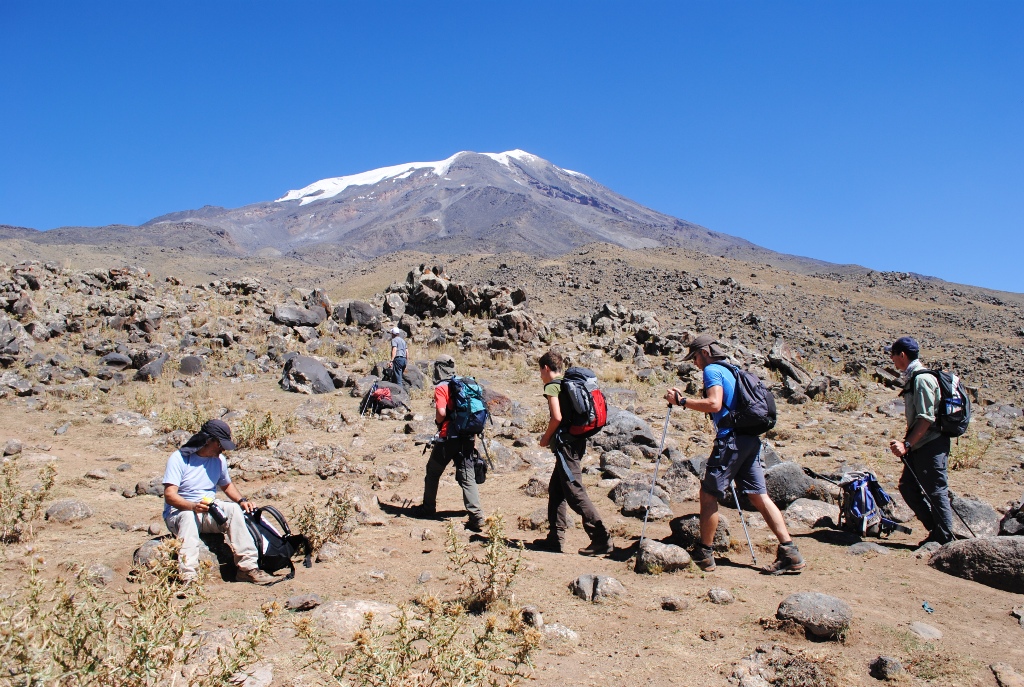 Leadership:
The expedition is led by our in country team for groups smaller than 6 people unless otherwise arranged. Groups of 6 people or more are led by a European qualified leader.
A remote medic/leader can be added to the trip for for £2,000
Note: You will need to budget for personel travel insurance as this is a requirement for climbing with us.
The above expedition is just a guide contact us at info@expeditioncompany.co.uk to discuss your needs.

Duration of Tour : 8 Days
Duration of Trek : 5 Days
Highest Point Gained : Mt. Ararat Summit (5.137m)

Best Season : June – September
Group Size : minimum 4; maximum 16 persons
£1,000 per person
Budget £150 for the flight.
Accommodations
Hotel : 3 Nights
Camp : 4 Nights
Ski touring options available.

Book Online:
Alternative payment methods
Cheque or bank transfer
Got a question?
contact us
info@expeditioncompany.co.uk
Price Includes
- All transfers and transportations with private vehicle to the places mentioned above
Whole group transfer from/to Van airport/Dogubeyazit Days 1 & 8
- Hotel accommodations: rooms on double/twin share base. Single supplement available.
Half Board (HB) Service; Important: HB Dinner Service available until 21:00h
- English speaking Guide
- Licensed Mountain Guide for the Mt. Ararat (days 2/3/4/5/6)
- 7 x Breakfast, 6 x Lunche (Lunch Packages and Restaurants where available), 7 x Dinner
- All necessary Camping Equipments (Tents, Mattresses, necessary Kitchen Gears & Dinnerware)
- Mt. Ararat Permit Fees

Price Excludes
- All International and Domestic Flights
- Travel insurance
- All kind of Entrance fees for natural and historical sites
Day 7: Ferryboat from Gevas to Akdamar Island & church
- All kind of Transports and transfers other than that stated in the Itinerary
- Meals other than stated in the Itinerary
- All kind of Soft and Alcoholic drinks, bottled Waters, Tea & Coffee,
- All kind of personal expenses
- All kind of optional activities
- Extra Nights
- Personel climbing equipment
- Tips


Camping Gears Provided
Dome tents (4 Seasons, Extreme) (two persons per Tent)

One mattress per Person

All necessary camping Equipments, All necessary Kitchen Gears & Dinnerware